Hunter Herald Inset 7

based on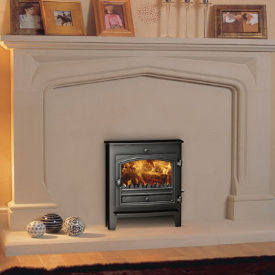 The Herald 7 inset is a medium output stove from Hunter designed to be installed into a wall or fireplace opening.

Most Recent Review
This is my 5th season with this burner, I've read all the other reviews and I can't agree with any of them. I had it installed by a HETAS installer and from the first firing and upto the present... [ read more ]

Stove expert replied: Great review.
Most Popular Review
Fitted the inset burner last September and tried various fuels but all very disappointing. It no way puts out 7.5 kw.(more like 2-3kw)The only way to get any heat out is to have it roaring with... [ read more ]

Stove expert replied: Insert models should produce heat into the room providing it has been insulated round the insert box to prevent the heat from radiating into the builders opening. Worth checking!
More reviews for Hunter Herald Inset 7
Very disappointing output with wood and smokeless fuels. The only way to get any heat is to burn coal and suffer the consequences. By the consequences I mean replacing the interior parts. I... [ read more ]

Stove expert replied: It was properly installed by a reputable fireplace company. This may be the main reason why you are so disappointed with the output that this stove produces - not the fault of the stove!

Had this fitted 2 weeks ago didn't have a liner fitted, it produces plenty of heat with coal but with wood it takes a lot longer but still has plenty of heat, my advice is burn coal with wood... [ read more ]

Stove expert replied: Good review marked quite low with the comments the customer has made.

BOUGHT THIS STOVE TO SIT EXACTLY WITHIN AN EXISTING 'NORMAL FIREPLACE OPENING. DISAPPOINTING RESULTS. IT TAKES ABOUT AN HOUR AND A HALF BEFORE ANY NOTICABLE HEAT IS PUT OUT. THE INSTRUCTION... [ read more ]

Stove expert replied: sounds to me like the installer (or an installer) should be booked in for a site visit here. It sounds like there could be a strong draw on the chimney.