Esse 525 stove

based on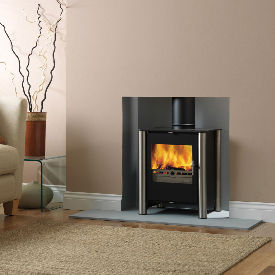 The Esse 525 contemporary stove has an out put of 5.5kw making it suitable for the medium sized room. The stainless steel legs which are the full height of the stove make this a highly characteristic stove.
Technical Data
Height:

542

mm
Width:

440

mm
Depth:

380

mm
Flue Diameter: 125mm
Fuel: Multifuel
Nominal Heat Output: 3.8kW
Efficiency: 83.5%
Most Recent Review
We bought this stove as an ex-display model from our local retailer. Unfortunately they didn't have the kit available to convert it to a true wood burner. However, It seems that Esse do not... [ read more ]
Most Popular Review
This is our first wood burner. We ordered in September and finally had it fitted mid December. I'm told these stoves are hand made and in high demand so get in early! What Esse lacked in customer... [ read more ]

Stove expert replied: Pleasing review. Lead times in the Autumn can vary and to plan ahead is important to insure that you get your stove when needed. Seems to be well worth the wait!
More reviews for Esse 525 stove
This stove was fitted a few weeks ago by a fantastic installer. I have only experimented with the stove due to the weather being warm, but; this stove is easy to use lights first time and has... [ read more ]

I received new glass at cost to me of £48 with instructions informing me of the correct screws to be used. Contact with esse to get correct screws..................YES THEY WANTED ME TO PAY... [ read more ]

I ordered this because it looked sylish, modern and very suited to my decor. I got it up and running this past weekend, and I am delighted. It looks fantastic, burns beautifully, produces loads... [ read more ]

Stove expert replied: sometimes you need to get the chimney warm before the stove will work well. Lining and insulating the chimney will probably help but you can also light some newspaper in the stove first to prewarm the chimney. This is especially the case at the beginning of the season.