Coalbrookdale Severn stove

based on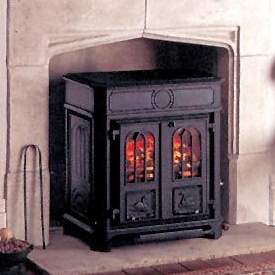 The Coalbrookdale Severn stove is a traditional stove.
Available in matt black finish it has a flat top and 2 doors.
The doors have decorative patterns and the stove is therefore easy to recognise.
Most Recent Review
Bought one of these online but found it was the boiler model when I went to pick it up. I closed off the automatic thermostat aperture and made two sliding manual vents in the bottom of the doors-a relatively easy job and lined the firebox with 30mm vermiculite board. We burn logs and coal and it's an absolutely brilliant efficient economical stove.... [ read more ]

Stove expert replied: Boiler stoves should not be used without them being fully connected to a water system according to the Health and Safety Executive guidelines produced a few years ago.
Most Popular Review
I use this stove as a wood stove. Having recently replaced the very worn gasket I find I cannot generate good hot heat any longer. I close the 2 vents at the bottom of the stove as always, and... [ read more ]

Stove expert replied: If the stove is working hard and not generating heat it may that the flue is over-drawing and sucking the heat out of the stove before it can circultae into the room. The gasket that ylou replaced was this from round the door or the glass? If the control on the stove doesn't alter when you operate the vents then you may want to look at adding a flue damper or stabilzer to the flue system. Seek expert advice.
More reviews for Coalbrookdale Severn stove (page 1 of 3)
1