Coalbrookdale Severn stove

based on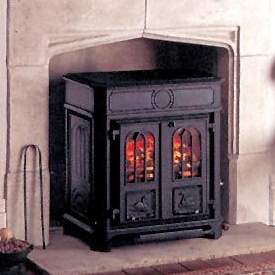 The Coalbrookdale Severn stove is a traditional stove.
Available in matt black finish it has a flat top and 2 doors.
The doors have decorative patterns and the stove is therefore easy to recognise.
Most Recent Review
Hi, I just bought a house and this stove is installed in boiler version. I haven't tried it, but I have seen that the pipes are disconnected therefore this stove cannot be used unless the pipes... [ read more ]

Stove expert replied: Gravity systems only work if the pipework rises all the way from the stove to the radiator, should this not be the case then a pump may be required to circulate the heated water. I recommend a heating engineer is consulted to insure what parts may be required in your situation. A throat plate is required where specified by the manufacturer, as the stove will have been tested with one. They provide a flame deflector which in turn enables the flue gases to be burnt more efficiently and effectively, it also keeps the heat in the stove longer to enable a better heat transfer to the room rather than going up the flue system.
Most Popular Review
I use this stove as a wood stove. Having recently replaced the very worn gasket I find I cannot generate good hot heat any longer. I close the 2 vents at the bottom of the stove as always, and... [ read more ]

Stove expert replied: If the stove is working hard and not generating heat it may that the flue is over-drawing and sucking the heat out of the stove before it can circultae into the room. The gasket that ylou replaced was this from round the door or the glass? If the control on the stove doesn't alter when you operate the vents then you may want to look at adding a flue damper or stabilzer to the flue system. Seek expert advice.
More reviews for Coalbrookdale Severn stove (page 1 of 3)
1