Coalbrookdale Severn stove

based on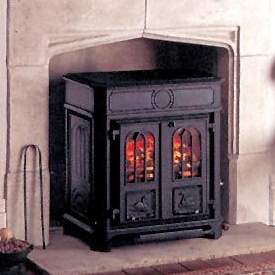 The Coalbrookdale Severn stove is a traditional stove.
Available in matt black finish it has a flat top and 2 doors.
The doors have decorative patterns and the stove is therefore easy to recognise.
Most Recent Review
I have owned this stove from new and it has been very good , a couple of weeks ago I came home from work to find a wet carpet on examination I found the boiler has rotted through from the fire... [ read more ]

Stove expert replied: If a replacement boiler is not available through Aga you may be able to get one fabricated using the existing one as a template. Add in boilers can be made from steel or stainless steel which is not uncommon. You did nto say how old the stove is but they generally last many years.
Most Popular Review
I use this stove as a wood stove. Having recently replaced the very worn gasket I find I cannot generate good hot heat any longer. I close the 2 vents at the bottom of the stove as always, and... [ read more ]

Stove expert replied: If the stove is working hard and not generating heat it may that the flue is over-drawing and sucking the heat out of the stove before it can circultae into the room. The gasket that ylou replaced was this from round the door or the glass? If the control on the stove doesn't alter when you operate the vents then you may want to look at adding a flue damper or stabilzer to the flue system. Seek expert advice.
More reviews for Coalbrookdale Severn stove (page 1 of 3)
1