Coalbrookdale Little Wenlock Mk3 stove

based on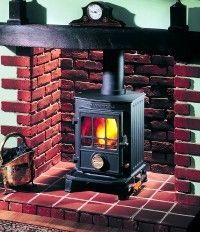 The Coalbrookdale Little Wenlock stove has a long history. There were the Mk1, Mk2, and Mk3 stoves which have now been superceeded by the current Little Wenlock model. Boiler models were also manufactured.
Most Recent Review
Just purchased a cottage with a little Wenlock stove. Externally it looks exactly like the one in the posting but it has a back boiler and must be ''quite old'' as the previous owner inherited... [ read more ]

Stove expert replied: Aga have taken over this brand and should be able to answer your questions.
Most Popular Review
I inherited this stove in a mobile home that I bought and lived in for about five years. The stove looked nearly new when I bought the mobile home. It is fitted with a back boiler which was... [ read more ]

Stove expert replied: I hope that when you install it again that you incorporate some safety features such as a high temp header tank and heat leak radiator. This stove is not suitable for pressurised systems.
More reviews for Coalbrookdale Little Wenlock Mk3 stove