Clearview vision 500 stove

based on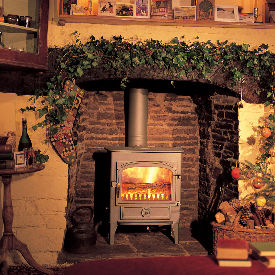 The Clearview vision 500 stove is available as a flat top, low canopy or high canopy model.
The legs can be 2,4 or 6 inches on this Clearview stove.
The Vision 500 is available with multi fuel kit for burning coal
and
a smoke control kit to use in smokeless areas.
You can get the Clearview stoves in coloured finishes too.
Technical Data
Height:

588

mm
Width:

582

mm
Depth:

330

mm
Flue Diameter: 150mm
Fuel: Multifuel
Most Recent Review
I bought this stove after reading some of the positive reviews, I have had the stove approximately three years, I have only ever burnt seasoned wood and approved smokeless fuel, on replacing... [ read more ]

Stove expert replied: The manual that is provided with the stove should set out clearly the warranty / guarantee terms and conditions and also what fuel can be used on the appliance. Having looked at a manual it states: " Many manufactured solid fuels now contain oil products, these can be very corrosive, burning such fuels in your Clearview stove will void your warranty, the life of metal flues will be much reduced and glass may become opaque". It is very important for every customer to read the manual to check what is allowed as this varies with different stoves and can be a costly error should they not be followed and a problem occurs.
Most Popular Review
Installed the Vision 500 about 10 years ago, at that time the airwash was quite a new twist on an old idea. On first installing the stove we had fumes creeping through the joints in the chimney... [ read more ]

Stove expert replied: Replacement rope is expensive but important to the working of a stove, think of it as a genuine spare for a car. It is not only the diameter of the rope but the density as well and this is a trade secret to each manufacturer.
More reviews for Clearview vision 500 stove (page 1 of 11)
1