Bergen stove

based on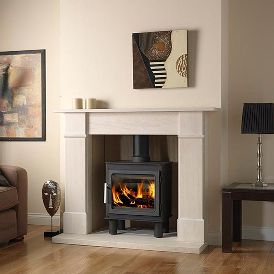 The Bergen Nordpejs stove is made from both cast iron and steel.
Self adjusting feet.
Technical Data
Height:

650

mm
Width:

545

mm
Depth:

390

mm
Flue Diameter: 150mm
Fuel: Wood
Nominal Heat Output: 5kW
Efficiency: 84%
Most Recent Review
The Nordpeis Bergen has a removable internal Smoke Baffle Top Plate to access the flue when the outlet mounted to the Top of the Stove. The Stove is fitted with a cast iron Draft Diverter before... [ read more ]

Stove expert replied: Flue access is always recommended to be allowed above the stove even if there is access from within so an alternative point is available. A flue pipe with an access door should have been fitted at the time of installation.
Most Popular Review
It is a lovely stove but only suitable for very good chimneys. The literature does not make this clear. I have lined my chimney but it still doesn't work, the fire goes out if the door is... [ read more ]

Stove expert replied: I am sure that there will be a way to make this stove work better! Contact a chimney specialist for further assistance as it is shame if you are disappointed. Otherwise contact manufacturer for help as to how to overcome this problem.
More reviews for Bergen stove (page 1 of 3)
1