Bergen stove

based on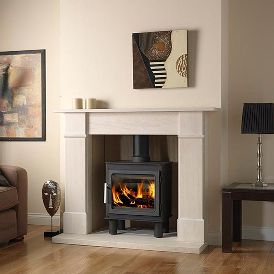 The Bergen Nordpejs stove is made from both cast iron and steel.
Self adjusting feet.
Technical Data
Height:

650

mm
Width:

545

mm
Depth:

390

mm
Flue Diameter: 150mm
Fuel: Wood
Nominal Heat Output: 5kW
Efficiency: 84.4%
Most Recent Review
This stove has proven a dream for use in a 40m2 living room which it can heat and keep warm without issue. We have a 6" liner and the draw is excellent in a 10m chimney - there is no need for... [ read more ]

Stove expert replied: The optimum operating temperature registered on a flue thermostat is between 230 - 460 F (110 - 250C) so you are running this stove far too hot for the hour long period, this can potentially lead to distortion of the body so can't be recommended and should be avoided. Short periods of fast burn (no longer than 20mins) when a fire is established should be adequate to clean off any residues that are produced during slumbering periods.
Most Popular Review
It is a lovely stove but only suitable for very good chimneys. The literature does not make this clear. I have lined my chimney but it still doesn't work, the fire goes out if the door is... [ read more ]

Stove expert replied: I am sure that there will be a way to make this stove work better! Contact a chimney specialist for further assistance as it is shame if you are disappointed. Otherwise contact manufacturer for help as to how to overcome this problem.
More reviews for Bergen stove (page 1 of 3)
1