Parkray Aspect 4 stove

based on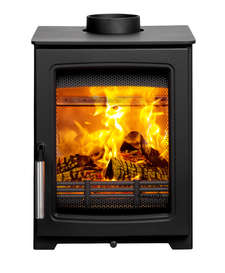 The Parkray Aspect 4 is a compact 5kW woodburner.
Technical Data
Height:

515

mm
Width:

400

mm
Depth:

325

mm
Flue Diameter: 125mm
Nominal Heat Output: 4.9kW
Efficiency: 85.9%
Most Recent Review
We had a double sided aspect 4 installed in March but obviously due to the lovely long warm summer we had have only just started using the stove over the last 5/6 weeks. The stove is absolutely... [ read more ]

Stove expert replied: Was this smoke only coming out when first lighting the unit, if so I would suggest leaving the door slightly ajar until the chimney has warmed and this should help to lift the gases out of the firebox more effectively. If this occurred, when you had an established fire, then a down draught may be the cause and should be investigated fully. Have you an airbrick in the room? Have you an anti down draught cowl fitted? Is the flue system lined? What height is the flue system? Is the property surrounded by trees or other buildings? Your installer should be able to assist you further with this by undertaking a flue draw test to ascertain if the draw matches what is recommended by the manufacturer.
Most Popular Review
Installed earlier this year 2017. Its been great, no problems and good slow burn. Plenty of heat out of it. Looks good to with the large windowed front.

Stove expert replied: Nice comments.
More reviews for Parkray Aspect 4 stove
Spent £1000 on a Hunter aspect 5 stove. After four months the paint is coming off it and it is appearing to rust. Contacted retailer who forwarded photos of the faults. Hunter stoves have a accused me of either wiping the stove with a damp cloth or having a damp house! This manufacturer will judge your complaint without even examining the stove. They have also said I have voided the warranty due to one of the above reasons. It seems my retailer have had this problem with other Hunter stoves recently. I can't recommend buying a Hunter stove. They will assume you have done something wrong, with no proof whatsoever and you will end up with a rust bucket for your £1000. Will be taking this further.... [ read more ]

Stove expert replied: Once the paint has cured (usually after the first few firings) it forms a hard durable surface unless it has not adhered to the metal of the stove, Normally this can be easily remedied by a light sanding and cleaning of the area and re-spraying it (again the curing process will need to occur on the new paint surfaces) Manufacturers normally require the serial number of the stove to follow up any warranty claim such as this..

We chose the Aspect 4 for one of our holiday cottages because it is compact and we are delighted with the large glass window which gives a great visual impact. Whilst we are not using it ourselves... [ read more ]

They have replaced the doors and expect the end user to remove stove from housing remove all internal glass and bricks lay stove on back for screw access, refit door, glass and stove and get... [ read more ]

Stove expert replied: Hunter allow £100 per stove when disconnection and re-connection is required under their warranty scheme. It is unfortunate that the two stoves purchased have shown similar faults that require disconnection / reconnection to allow for the doors to be changed over. Hunter Stoves confirm that they do not have technical engineers on the road that can undertake this.