Parkray Aspect 4 stove

based on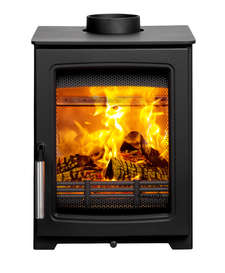 The Parkray Aspect 4 is a compact 5kW woodburner.
Technical Data
Height:

515

mm
Width:

400

mm
Depth:

360

mm
Flue Diameter: 125mm
Nominal Heat Output: 4.9kW
Efficiency: 85.9%
Most Recent Review
After a year of having this stove professionally installed, chimney swept and stainless lined, I have come to the conclusion that there is a fault with the air control system, trying to get... [ read more ]

Stove expert replied: Are you sure that it is the stove and not the flue draught that is causing the problem. The controls on the stove do take a few minutes to have an effect and getting a steady rate of burn should be achievable by moving the sir controls fractionally. If the flue draught is excessive a damper may assist you to get back control. Was a flue draught reading taken at the time of installation? This stove has a restriction on the air control to prevent it from being fully closed so your comment on it's nearly out is surprising. Are you using wood only and is it dry and seasoned with a moisture content of less than 20%? What size logs are you using, ideally not more than 4" diam. Further investigation is recommended to ascertain the flue draught.
Most Popular Review
Installed earlier this year 2017. Its been great, no problems and good slow burn. Plenty of heat out of it. Looks good to with the large windowed front.

Stove expert replied: Nice comments.
More reviews for Parkray Aspect 4 stove