Esse 300 stove

, page 2 of reviews based on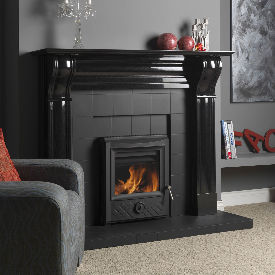 The Esse Instant insert 300 stove is a small model designed to slot into a traditional fire place opening.
It has a 150mm flue outlet and you do not normally line the chimney with this model.
As the top of the Esse 300 stove slants it is the easiest to remove the stove when you sweep the chimney - to make sure you get rid of soot brought down from the chimney which can otherwise sit on top of the stove.
The Firebox on the Esse 300 stove is relatively small.
Page 2/2 of reviews for Esse 300 stove
With electric central heating the heat always ran out about 9pm. So I bit the bullet and decided to buy a stove and chose an Esse because my grandparents had one and swore by it! I now realise... [ read more ]

Bought this fire back in september 08 to save money on gas bills,my wife likes heat and i have fancied having one for a while. fitting was so simple, 30 minutes with no alterations at all,also... [ read more ]
2