Esse 125 Podium stove

based on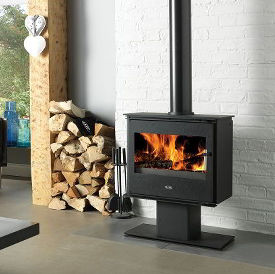 The Esse 125 stove has been developed with a pedestal.
It has a distance from back of stove to center top outlet of 145mm and
from floor to center of rear outlet of 405mm.
Technical Data
Height:

739

mm
Width:

580

mm
Depth:

260

mm
Flue Diameter: 125mm
Fuel: WMulti fuelood
Nominal Heat Output: 5kW
Efficiency: 82%
This is a nice looking stove in the brochure. Unfortunately the manufacturer does not live up to it's description of it's quality standards. This stove does not have a specific manual. The manual... [ read more ]

Stove expert replied: Esse have contacted this customer direct and have requested a meeting to discuss this in greater depth. Changes have been made to prevent similar occurrences in the future following internal investigations at the factory. Customer feedback is important to the Esse company to insure future developments and improvements are made to their products.