Charnwood Country 4 stove

based on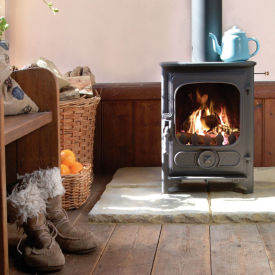 The Charnwood Country 4 stove is available as a wood or multi fuel stove.
You can get an optional small back boiler - big enough to heat domestic hot water and max 1-2 radiators.
You can get the Charnwood Country range in coloured finishes
&
This model has 1 door with plain glass in it.
Technical Data
Height:

545

mm
Width:

416

mm
Depth:

242

mm
Flue Diameter: 125mm
Fuel: Multifuel
Nominal Heat Output: 4.8kW
Efficiency: 76.8%
Most Recent Review
It''s a new stove Charnwood country 4 and when I crank the heat up the house completely smells of plastic. Is this normal and does it go away over time. Also have a little baby so not putting... [ read more ]

Stove expert replied: If the stove / flue smells of plastic when hot there may be something that is closer to the heat source than it should be as there should not be a noticeable smell from a working stove. I would suggest getting your installer back to check the installation as this is not normal. The stove is basically a steel box with refractory liners inside so there is nothing to cause a smell once the paint has cured.
Most Popular Review
I've being using my Charnwood Country 4 (made in England on the Isle of Wight) for a couple of months now, almost daily; often twice daily. It's very simple to use, easy to light and more controllable... [ read more ]
More reviews for Charnwood Country 4 stove (page 1 of 6)
1