Aga Ludlow stove

based on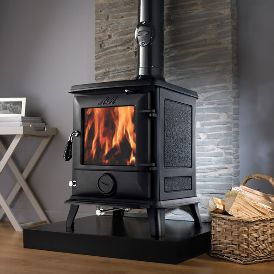 The Aga Ludlow is a 6.5Kw multi-fuel stove.
Technical Data
Height:

588

mm
Width:

454

mm
Depth:

456

mm
Flue Diameter: 125mm
Fuel: Multifuel
Nominal Heat Output: 6.5kW
Efficiency: 76.2%
Most Recent Review
Just purchased an AGA Ludlow which looks great. I only burn wood logs... I don't seem to get it burning with the primary control closed as suggested by the manual. I have a 5m stainless steel... [ read more ]

Stove expert replied: Using the primary, secondary and tertiary air controls exactly as per the manual may vary depending on the flue draw and fuel type being used, they are meant as a guide and therefore you may need to adjust them to suit your particular situation. Normally an over draught is required for wood burning and an under draught for smokeless fuels. I would start by setting the controls as suggested and then, if needed, gradually open the primary control until a gentle flame picture / controlled burning rate is achieved. As with most stoves it can take some time to find how they work best for your situation, and it can be a case of trial and error until this is achieved.
Most Popular Review
New to stoves and did a lot of research and waiting (6 months). It came down to the choice of an Aga Ludlow or a Clearview equivalent. Will not knock Clearview as they have plenty of happy customers... [ read more ]

Stove expert replied: Sound and honest feedback of this happy customer. Good to know that Aga is still maintaining their long established good quality.
More reviews for Aga Ludlow stove (page 1 of 3)
1