Stratford EB 20 HE

based on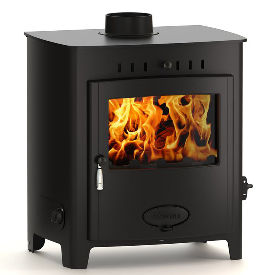 Giving out 20kW to water and 10kW to the room the EB 20 is a high output boiler stove able to run a whole house.
Technical Data
Height:

659

mm
Width:

590

mm
Depth:

443

mm
Flue Diameter: 150mm
Fuel: Multifuel
Efficiency: 70.5%
Most Recent Review
Bought this stove in 2017 and was never happy with it from day 1. It heats the water ok but no heat to the room. I have to keep it stocked up with fuel continuously and still no heat. You have... [ read more ]

Stove expert replied: This boiler stove can produce between 2 and 6kW's in to the room, was this checked to ensure that it meets the rooms heating requirements that it is installed in? The boiler says that it can produce upto 18kW's to water, again were the calculations undertaken to ensure that this is adequate for the domestic hot water and radiator circuit? You say you have 10 radiators, these can range from small single panel to large double panelled radiators and their demands vary greatly in what heat is required etc; It is essential that prior to purchasing any boiler the heat load calculations are undertaken by a suitable heating engineer.
Most Popular Review
I purchased this stove with the intention to greatly reduce, if not completely do away with my oil bill. Since the installation has been completed I've just put my oil heating on once. It's... [ read more ]
More reviews for Stratford EB 20 HE (page 1 of 2)
1