Parkray Compact Consort 5

based on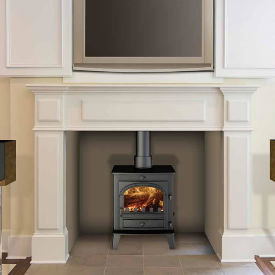 A small multifuel stove from Parkray, similar to the Parkray Consort 5 but with a depth of only 363mm.
Most Recent Review
We had a Parkray 5 installed in December by a professional stove supplier and we love it , ! However we also had a chimney liner installed at the same time , we never had a problem with our... [ read more ]

Stove expert replied: There may not be enough free air in the room, if the house is well insulated. What height is the flue system (ideally 4.5mtrs is best). Have you another chimney in the property? What fuel are you using and if wood, is it dry, well seasoned and with a moisture content of less than 20%? Is there an anti-down draught cowl on the top of the liner? I would not remove any of the internal parts as they are there for a reason,. This is likely to be to do with the installation and requires further investigation so that refueling is not a problem for you.
Most Popular Review
After the usual WEEKS! of research, I stumbled across Parkray Compact. We think it is great. Stylish, neat, not too deep but wider firebox than its competitors of this size at 13". The styling... [ read more ]
More reviews for Parkray Compact Consort 5
It works well in our bungalow. 6 inch flue liner makes it draw well. To well if I get the air flow wrong. I burn chopped up pallets, cheap coal, pine wood, smokeless coals. Actually burnt a... [ read more ]

I previously had a wood burner that worked very well and so when I moved to my new house one of the first things I did was to have a wood burner installed. I chose a parkway consort 5 and am... [ read more ]

Stove expert replied: Is this stove installed into a lined flue? Although low output please make sure there is enough free air to enable combustion to occur. The height of the flue system may need checking as outside forces affect the way a stove performs.

This is our second woodburning/multifuel stove. The first one served us well for years at our previous house - so much so that my wife and I were lulled into the assumption that all such stoves... [ read more ]

Stove expert replied: Try putting WD40 on the inside of the handle when the stove is out to loosen it. If using wood do make sure it is dry and seasoned and operate the stove on short periods of fast burn to burn off any tar residues that are produced when the stove is slumbering.