Parkray Compact Consort 5

based on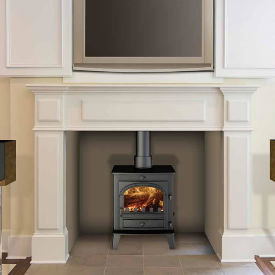 A small multifuel stove from Parkray, similar to the Parkray Consort 5 but with a depth of only 363mm.
Most Recent Review
I am forever changing my fire bricks because of cracking. New ones never seem to last more than a month before cracks appear Is this a normal problem?

Stove expert replied: Cracking firebricks do not need replacing if they stay in one piece and protect the stove metal, only change if they leave exposed metal. Take care when refuelling the stove and knocking them can cause cracks though.
Most Popular Review
After the usual WEEKS! of research, I stumbled across Parkray Compact. We think it is great. Stylish, neat, not too deep but wider firebox than its competitors of this size at 13". The styling... [ read more ]
More reviews for Parkray Compact Consort 5