Lovenholm stove

based on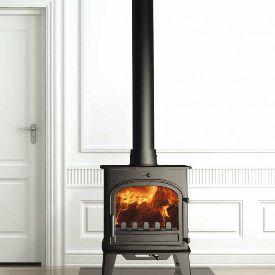 The Lovenholm stove comes in several variations, single door and double door as well as wood burning and multifuel The clean lines are typical of the Scandinavian style. With the multifuel stove you have a riddling grate, which you can change quickly to make it suitable for burning wood. This model has a 'cool-touch' handle in stainless steel. This sturdy stove sits on four legs and the large glass panel in the door gives a good view of the fire.
Most Recent Review
The riddling mechanism is certainly ''not the best in class'', the door does not close properly, it would be cheaper to keep warm burning £5 notes than forever having to refill the stove, and... [ read more ]

Stove expert replied: What a shame that the Hunter stove has not provided you with a stove that is efficient and that it has required replacing.
Most Popular Review
An efficient little stove, good value, quick and easy to light, burns and draws well.The only negative points are:i) the top airwash lever is a bit hit and miss - it's best to listen for the... [ read more ]
More reviews for Lovenholm stove (page 1 of 4)
1