hunter Herald 5 slimline stove

based on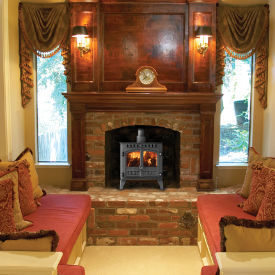 The Hunter Herald 5 slimline is available as a wood or multi fuel model.
This stove is suited for a big fire place opening in a smaller room -
as the stove is quite big but is 5kw only in output.
You can have this model with a flat top or a low or high canopy -
this stove has a top or rear outlet for the flue pipe.
Technical Data
Height:

567

mm
Width:

575

mm
Depth:

344

mm
Flue Diameter: 125mm
Fuel: Multi fuel
Most Recent Review
We bought our first hunter 5 slimline stove in 2013 and it was so good that after we moved house we decided to have the same again, unfortunately the new stove is not the same.The new stove... [ read more ]

Stove expert replied: As this is a new stove site the reason that the stove does not shut down may be down to the flue draw being excessive and this needs further investigation, if this is the case then the stove is not at fault. As you have had a problem with the paint soon after purchase, did you go back to the supplier for comment from Hunter under warranty?
Most Popular Review
This is my first and only wood burning stove, so I've nothing to compare it with - apart from the open fire that it replaced. I love it. Looks good and very neat in situ. Easy to light, easy... [ read more ]
More reviews for hunter Herald 5 slimline stove (page 1 of 2)
1