Hunter Herald 5 Inset stove

based on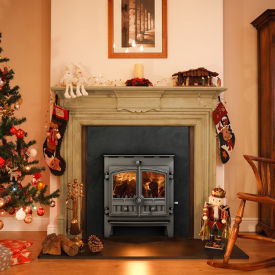 The Hunter Herald 5 Inset stove is designed to fit into a modern fireplace that may originally have had a gas stove fitted. There is a choice between having lattice on the doors or plain doors.
Most Recent Review
Read some of the other reviews. I have had mine for 5 years with no trouble. real heat, stays in over night, easy lighting and controlling the heat and fire burn rate. I can only suggest that... [ read more ]
Most Popular Review
Have just purchased this inset stove for a small room 13' x 13'.6"x 8' (height). It has been installed for one week now. Absolutely gutted with the results. The output calculator suggests that... [ read more ]

Stove expert replied: Inset stoves should produce adequate heat providing it has been installed as per the manufacturers instructions. Has insulation been put around the inset box to insure that the heat generated goes to the room and not to the surrounding materials of the fireplace? May be worth checking. Do not use household coal on a stove it should be a smokeless fuel.
More reviews for Hunter Herald 5 Inset stove