Firefox 5 stove

based on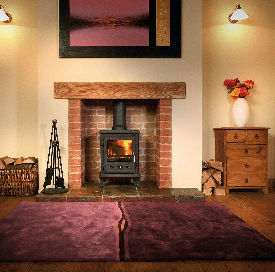 The Firefox 5 stove is a classic stove with a good view of the fire through the glass panel in the door.
Technical Data
Height:

575

mm
Width:

405

mm
Depth:

355

mm
Flue Diameter: 125mm
Fuel: Multifuel
Efficiency: 78%
Most Recent Review
Hello thereI have just moved house and in the house there is a firefox 5 installed. It was fitted about 6 years ago and the house being empty for the last 2. I have lit the burner for the first... [ read more ]

Stove expert replied: Make sure that the chimney has been swept to ensure that the flue way is clear of any debris that may have fallen down the chimney. The stove should not cause any undue smells when hot after the paint curing process has taken place (normally a few firings after installation should complete this process). I am assuming that buy the top damper you are referring to the top air control. As this is a cleanburn model there will be a restrictor fitted that will prevent it from being able to shut completely, this maintains diluted flue gases to comply with the smoke controlled areas and makes this a Defra Approved model.
Most Popular Review
Good stove for the money, But if i was to buy again i would spend a wee bit more and buy a morso or woodwarm for more efficience and control features as my two friends have one of each and... [ read more ]
More reviews for Firefox 5 stove (page 1 of 8)
1