Charnwood Island I stove

based on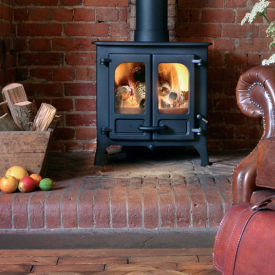 The Charnwood Island I is a small 2-6kw stove, it has two doors and sits on 4 legs. The grate can be converted for multifuel use using the lever on the side of the stove. The stove has an air control button on the front of the stove under the doors which controls the fire.
Technical Data
Height:

578

mm
Width:

535

mm
Depth:

312

mm
Flue Diameter: 150mm
Fuel: multifuel
Efficiency: 77.9%
Most Recent Review
We have this stove for years. Very easy to use. The only downside we have is that the Air control has never worked. It makes no difference if you push it in fully or pull it out. It burns fuel... [ read more ]

Stove expert replied: Have you had the flue draw taken as this may be making the stove work hard with little response from the air controls? You will use a lot of fuel for the heat that is generated as it is being sucked out of the stove more quickly than it should if the draw is excessive.
Most Popular Review
Very easy to light, easy to use with minimal fuss. No gadgets and gizmos just simple controls, pull out/push in for air control and side to side for riddling and multi fuel burning.Have only... [ read more ]

Stove expert replied: Value for money all in all. Great feedback. Comments on fuel very interesting.
More reviews for Charnwood Island I stove (page 1 of 2)
1