Charnwood c4 stove

based on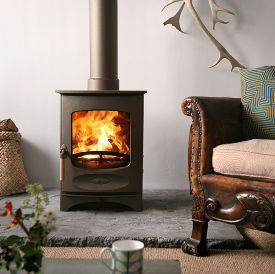 This Charnwood stove is available in wood or multi fuel -
with or without a store stand.
You can use a rear flue connection kit in order to take flue out of the back of the stove but still be able to sweep through stove.
Most Recent Review
Had this stove 5 years now. After the first year the inner back plate buckled. Tried to have replaced under warranty, they wouldn't do this. They said it was my fault for running it too hot.... [ read more ]

Stove expert replied: Yes a stove can run too hot, this may be due to operator error or an over-drawing flue that prevents the stove from being able to slumber. The stove would run with a fast flame even when all controls are in the closed position, it will use a lot of fuel for little output of heat. This continuous high heat can buckle and distort the metal of the stove.
Most Popular Review
I have a 2 bedroomed flat on the first floor. So all you flat dwellers can do this too. Although from the first floor, bear in mind dragging fuel up the stairs can be a pain. But I have to say... [ read more ]
More reviews for Charnwood c4 stove (page 1 of 3)
1