Charnwood Country 16 b stove

based on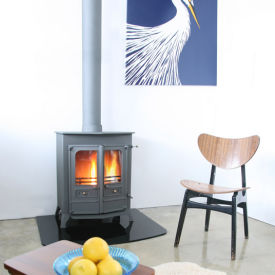 The Charnwood Country 16 b stove is a high output central heating model available in as a wood burning or multi fuel stove.
There are many coloured finishes
&
you can add a canopy to the flat top model.
The Country 16b has got 2 doors with plain glass in them
&
there is an angle on the front of the stove - making it easy to recognise the Charnwood models.
Technical Data
Height:

750

mm
Width:

601

mm
Depth:

460

mm
Flue Diameter: 150mm
Fuel: Multifuel
Efficiency: 74.6%
Most Recent Review
I have had this stove for about 6 years and have just moved house and left it behind. We heated a 4 bedroom cottage with it, replacing electric storage heaters and a multi-fuel room heater... [ read more ]

Stove expert replied: The critical thing with any stove is the installation, making sure there is adequate free air in the room and a flue draw that is within the tolerances stipulated by the manufacturer. Then a good quality fuel and providing the stove matches the heating requirements all should be well.
Most Popular Review
Bought this stove in September 2007. We have 9 radiators running off this system. I intially had lots of problems trying to get sufficient heat from the stove to keep all the radiators warm... [ read more ]

Stove expert replied: What a great account of how to get the best from the stove, log store, moisture meter, stove thermostat, seasoned logs - an expert in the making! Thank you for your valued comments.
More reviews for Charnwood Country 16 b stove (page 1 of 2)
1