Charnwood Country 16 b stove

based on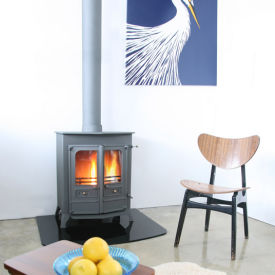 The Charnwood Country 16 b stove is a high output central heating model available in as a wood burning or multi fuel stove.
There are many coloured finishes
&
you can add a canopy to the flat top model.
The Country 16b has got 2 doors with plain glass in them
&
there is an angle on the front of the stove - making it easy to recognise the Charnwood models.
Technical Data
Height:

750

mm
Width:

601

mm
Depth:

460

mm
Flue Diameter: 150mm
Fuel: Multifuel
Efficiency: 74.6%
Most Recent Review
I've had the Charnwood 16b multi fuel stove for 10 years and couldn't have asked for a better stove so once the inner jacket wore through I automatically replaced it with the same stove but,... [ read more ]

Stove expert replied: If you are unable to shut the stove down to a slumber mode then get the flue draft checked as this may be in excess of the manufacturers recommended draw. Modern stoves have changed and this may be something that needs altering to suit the newer model.
Most Popular Review
Bought this stove in September 2007. We have 9 radiators running off this system. I intially had lots of problems trying to get sufficient heat from the stove to keep all the radiators warm... [ read more ]

Stove expert replied: What a great account of how to get the best from the stove, log store, moisture meter, stove thermostat, seasoned logs - an expert in the making! Thank you for your valued comments.
More reviews for Charnwood Country 16 b stove (page 1 of 2)
1