Charnwood Country 16 b stove
based on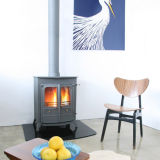 The Charnwood Country 16 b stove is a high output central heating model available in as a wood burning or multi fuel stove.
There are many coloured finishes
&
you can add a canopy to the flat top model.
The Country 16b has got 2 doors with plain glass in them
&
there is an angle on the front of the stove - making it easy to recognise the Charnwood models.
Technical Data
Height:

750

mm
Width:

601

mm
Depth:

460

mm
Flue Diameter: 150mm
Fuel: Multifuel
Efficiency: 75%
Most Recent Review
Just came across the review I submitted 8 years ago. Thought it might be worthwhile providing an update. I am pleased to say that I still have my Charnwood 16b and am still very happy with it

. Interesting to read that some people have had problems with paint chipping/peeling. Every year I apply a coat of black stove polish and it comes up like new. It is now nearly 14 years since I bought my stove. I have had no leaks or cracks and apart from a few replacement parts it still works well. If I am perfectly honest it does struggle to heat the house well if the temperature drops below 0 degrees but I have to say that it is a 200 year old cottage and although we insulated as best as we could it is not up to the standard of a modern house. Some additional things I have done which has also helped is to add secondary glazing as I was keen to keep the original sash windows. Additionally, I purchased a stove fan and instead of keeping all our doors closed they are now left open which gives us an even temperature throughout the house. I find it hard to make a direct comparison with any other models because although many of my friends have wood burning stoves they are only room heaters and do have the full capacity of the 16b. Rather than change the make or model of my stove when the need arises, I think I will be more inclined to reduce the size of water tank we have which I imagine would allow the central heating pump to come on quicker and heat the radiators for a longer period of time.

Stove expert replied: Good comments and great to hear this is still working well after nearly 14 years and heating your home adequately.
Most Popular Review
Bought this stove in September 2007. We have 9 radiators running off this system. I intially had lots of problems trying to get sufficient heat from the stove to keep all the radiators warm

let alone hot. The problem however was not the stove but the user. Logs were not sufficently seasoned and anthracite was not sufficently dry. Because of the cost of anthracite here on the Isle of Mull (£200 per month)I now only use wood which mainly comes from the Forestry Commission (25 tons costing £650). Apart from the amount of time I spend cutting and splitting logs (which I enjoy) I estimate the cost of running this system for me is just over £350 per year as opposed to oil which would cost us £3000 per year.In order to get our stove working effectively, here are some of the things I have done.Built a very large woodstore which holds approx. 12ton of split logs (one years supply). This ensures wood is well seasoned before using.Adjusted the thermostats to 80degrees centrigrade and 60 degrees centigarde to ensure the radiators become hot. Please check with your installer.Use a moisture meter to check moisture content of logs is between 15-20%All logs split to 3 inches or 6 inches wide.Have a pipe thermostat to ensure stove is sufficiently hot to achieve secondary burn.Ensure kindling is extremely dry.Where possible use seasoned hardwood in the coldest months.All these things have helped me overcome the intial problems. I love my Charnwood 16b (wife calls it the 'black bitch' as it gets more attention than she does!) and would replace with the same. Initial layout for the stove, plumbing, liner and cost of repairing the chimney was expensive at £5k, but I have already recouped all of that cost in comparison to what it would have cost if I had used oil or LPG - no gas available on the island.

Stove expert replied: What a great account of how to get the best from the stove, log store, moisture meter, stove thermostat, seasoned logs - an expert in the making! Thank you for your valued comments.
More reviews for Charnwood Country 16 b stove (page 1 of 3)
1