Woolly Mammoth 5 Stove

based on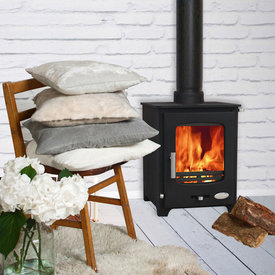 Woolly Mammoth is a buget 5kW Stove which can be ordered as DEFRA approved. 
Most Recent Review
The first stove purchased had a shabby build quality including a hinge that was 4mm proud of the other. This meant air was getting into the stove causing logs to burn quickly without being able... [ read more ]

Stove expert replied: This stove is produced so that it complies to the current regulations for smoke controlled areas and therefore the air controls will not fully close which is quite normal. This does not mean however, that the stove should be uncontrollable. The flue draw test taken on installation should comply to that recommended by the manufacturer. If the draw is in excess, then the likely hood is that you will use more fuel and get a poor heat output as a result of the heat being sucked up the chimney. The door seals need to fit well and you can test this by shutting a piece of A4 paper between the door and body of the stove (when cold), if you can pull it out then adjustments need to be made to improve the seal. If all of the above are satisfactory, then a flue damper can be fitted that will give you manual control on the flue draw, which should help to get better control and getting further assistance from your installer is advised.
Most Popular Review
Really impressed with the features and quality for money on my little woolly mammoth 5 stove. Defra and hetas approved and tertiary air for such a low price. Build quality is good and very clean... [ read more ]