Woodwarm Fireview 6KW Flat top stove

based on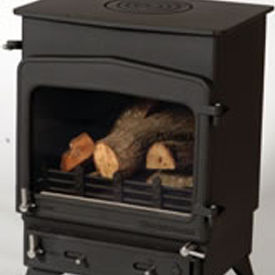 The Fireview 6kw multifuel stove is a steel stove with cast iron fittings. A boiler can be fitted for hot water and central heating. There is an optional low or high canopy that can be fitted as well as a pedestal or plinth. The maximum log length for the Fireview 6 is 368mm.
Most Recent Review
We had a 6kw fireview in our home in Devon for 16 years. It was truly excellent. The only thing replaced in all these years were the fireboards and one new door handle. Airwash worked well and... [ read more ]

Stove expert replied: Nice comments. I am sure that you could get one transported to Spain if this is the stove that you require. Transportation is not an issue these days with many carriers making routine deliveries to European countries.
Most Popular Review
This stove does everything the manufacturer claimed. The airwash system works well, we only have to rub a piece of newspaper over the glass before lighting and it's clean again. I recommend... [ read more ]
More reviews for Woodwarm Fireview 6KW Flat top stove (page 1 of 3)
1