Westfire 5 stove

based on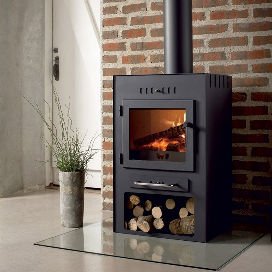 The Westfire 5 is a Danish contemporary stove.
It has a 5kw nominal output - so you do not need an air vent into the room.
The Westfire 5 can be placed on a 12mm hearth.
It is a wood burning stove but has an ash pan & grate, so you can burn 20% coal mixed in with 80% wood.
Technical Data
Height:

800

mm
Width:

500

mm
Depth:

385

mm
Flue Diameter: 150mm
Nominal Heat Output: 4.7kW
Efficiency: 76%
Most Recent Review
The correct name for this stove is the Westfire 'Uniq' 5 not Westfire 5 as this website suggests.The Uniq 5 is essentially the same as the Uniq 4 but without the roll over top, (which is another... [ read more ]

Stove expert replied: Do check on the instructions of the stove as by changing the top brick may mean this is not in the correct manufacturers location and could cause a problem of the heat generated going to the wrong part of the stove.
Most Popular Review
This is my first wood burning stove. Very easy to(DIY)fit as well as install a twin wall chimney system. Excellent service from Stoves-on-Line, can't rate them high enough. Particulary helpful... [ read more ]

Stove expert replied: the metal bar across the flue spigot is usually always removed before dispatch on this stove so this must have been the odd one that got through.
More reviews for Westfire 5 stove