Vermont Castings Intrepid 2 Multi fuel stove

based on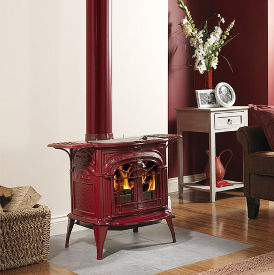 The Vermont Intrepid 2 multifuel stove is an enamelled cast iron stove with a 7kw output. It has a top loading door and airwash.
Most Recent Review
The ash pan is fairly small for the size of burner. The fins in the casting under the ash pan collect ash, and virtually impossible to remove without using a hoover. Not popular with the wife... [ read more ]

Stove expert replied: The poor draw on this installation may be due to the flue not having an effective draw being that it is in an extension (possibly single storey so short flue length overall) and there is another working flue in the property which may have a better flue draw affecting this stove. Further investigation is recommended into this as there may be options to assist which would improve the stoves performance.
Most Popular Review
Have been using multifuel stoves for over 30 years in our non centrally heated farmhouse. Our Intrepid has now finished it's 3rd winter. Love it. Very economical with fuel compared to our other... [ read more ]
More reviews for Vermont Castings Intrepid 2 Multi fuel stove (page 1 of 2)
1