Stratford EB 25 HE

based on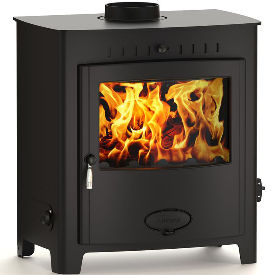 The largest in the range the Stratford EB 25 gives out up to an impressive 25kW of heat to water and 12kW to the room.
Technical Data
Height:

725

mm
Width:

678

mm
Depth:

489

mm
Flue Diameter: 150mm
Fuel: Multifuel
Efficiency: 72.4%
Most Recent Review
Poorly designed overall. Its impossible to shutdown the stove enough for it to stay lit overnight. So it burns too high most of the time, which means the pipe stat kicks in a lot to pump extra... [ read more ]

Stove expert replied: If the stove is not controllable it may be due to an over-drawing flue system which although may have suited previous stoves may not suit this model without remedial work, this should be investigated further. These are normally very controllable stoves when installed correctly and if using smokeless fuel should easily keep in for overnight burning, unlikely if only wood being used to have a lot left in the firebox but the hot ash should be able to be re-kindled if the air controls are set effectively. The thermostat on the stove itself, can be regulated to control the water temperature and do check that the damper flap has not become jammed open with ash, which can also lead to poor control overall. There is a fuel retaining bar that fits at the front of the firebox, so this should keep the fuel away from the front edge if the fuel is pushed to the back when loaded, if you are over-loading the stove then ash can spill onto the hearth when the door is open. This is a high output model so please make sure that you have either an airbrick in the room or use the direct air feed that is optional, this should help to overcome smoke coming back into the room when the door is opened. These models have gone through a complete design change since previous Stratford models to give greater efficiency, quicker heating up times and have a more modern appearance. Do also check that the door seals and intact and are forming a good seal and that the glass gasket is in place.
Most Popular Review
We bought the stove in september and had it fitted by hetas approved engineers but right from the first week we had problems with it not heating radiators and not being able to control the burn... [ read more ]

Stove expert replied: If the stove is working hard and you are not able to shut is down it may be an over-drawing flue preventing the heat from going to the water. A flue damper or stabilizer can be fitted so that more control can be achieved and this would help to keep more heat in the firebox so that it transfers to the water effectively. Your installer should be able to advise further. It may also be worth trying smokeless fuel to see if the performance improves.
More reviews for Stratford EB 25 HE