Stratford EB 25 HE

based on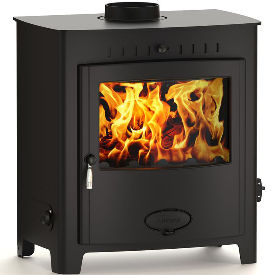 The largest in the range the Stratford EB 25 gives out up to an impressive 25kW of heat to water and 12kW to the room.
Technical Data
Height:

725

mm
Width:

678

mm
Depth:

489

mm
Flue Diameter: 150mm
Fuel: Multifuel
Efficiency: 72.4%
Most Recent Review
The Stove expels a lot of smoke into the room when the door is opened to re-fuel.I have a 100mm direct underfloor Air Intake piped to it and also have a 150mm dia Vent in the same room as per... [ read more ]

Stove expert replied: It is worth checking the flue draw to see if it complies to the manufacturers guidelines, it may need lengthening as this sometimes helps, try opening the door ajar for a short period before opening fully as this sometimes helps with the imbalance!. If you have another flue in the property this may also be a factor that needs investigation, if the draw is stronger on this one then it is preventing the gases from lifting out of the firebox fully on the Stratford, this can happen even if the flue is in another part of the property. Further investigation recommended.
Most Popular Review
We bought the stove in september and had it fitted by hetas approved engineers but right from the first week we had problems with it not heating radiators and not being able to control the burn... [ read more ]

Stove expert replied: If the stove is working hard and you are not able to shut is down it may be an over-drawing flue preventing the heat from going to the water. A flue damper or stabilizer can be fitted so that more control can be achieved and this would help to keep more heat in the firebox so that it transfers to the water effectively. Your installer should be able to advise further. It may also be worth trying smokeless fuel to see if the performance improves.
More reviews for Stratford EB 25 HE