Stovax Huntington 40 stove

based on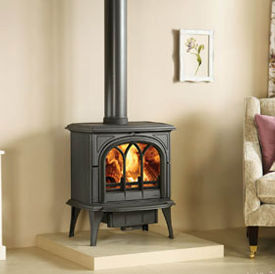 The Stovax Huntington 40 stove is available as a woodburning or multi fuel stove.
The multi fuel version has got an external riddling grate.
The Huntington glass door is available with clear glass or tracery door.
The stove is available in enamel finish - matt black, blue or green.
Most Recent Review
Since installation in 2002 I get it regularly serviced, I have had to replace:- 1 x Top Plate circa £450 because they have to de-install it first, 5 x pieces of glass for the door, 6 rear fire... [ read more ]

Stove expert replied: If the initial stove flue pipe had a door in it then the baffle plate would not need to be removed for sweeping purposes and may lengthen its life. Any debris should be able to be removed through the flue pipe door. Perhaps this could be added into the system and ideally should have formed part of the initial installation process.
Most Popular Review
I am afraid my experience of this stove is not a good one.After seven winter's use it now has a crack running right across the top plate and smaller cracks front to back. Also the glass is... [ read more ]

Stove expert replied: If you are operating a stove at too high a temperature damage will be caused to either cast iron or steel stoves, perhaps get a flue thermostat to insure that the operating temperature is within recommended limit. Vermiculite liners will require replacing and can also crack during use so again maintenance will be required on a regular basis.
More reviews for Stovax Huntington 40 stove (page 1 of 2)
1