Newbourne 40FS stove

based on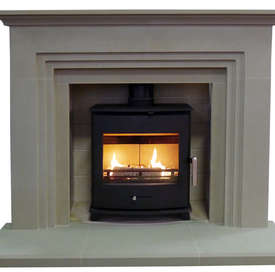 The Newbourne 40FS is the smaller version of the Newbourne 50FS stove. It is DEFRA approved from smoke control areas. The Newbourne 40FS has great controlability with both the primary and secondary air controls.
Technical Data
Height:

580

mm
Width:

503

mm
Depth:

374

mm
Flue Diameter: 125mm
Nominal Heat Output: 4.5kW
Efficiency: 79.5%
Most Recent Review
Top slider jams so cannot operate stove properly. Called out some firm to take a look at it and all he did was spray some WD 40 on it which lasted a couple of days.There must be a proper solution... [ read more ]

Stove expert replied: You do not say how old the product is, if under 12 months I would advise that you go back to your supplier to see if this can be addressed under warranty. A longer lasting fix might be to use graphite powder on the moving part, it may need this again in the future if no obvious way of loosening the slider is evident. Graphite powder is not affected by heat whereas WD40 will be. Does this only happen when the stove is hot?
Most Popular Review
Now we are into the winter months thought I would give update on the stove , Can't fault it no problems to report on stove Door handle etc I when it is up and running , you get a great heat from the fire as explained in last post Now that I have the experience of the air I controls I find the best setting for good burning to set the top & bottom air settings to 1/4 of an inch from shut This gives a good burn on logs , also when adding new logs place log on fire and leave door open slightly till log catches fire ,then shut door , but as said still very happy with this fire... [ read more ]
More reviews for Newbourne 40FS stove (page 1 of 2)
1