Mendip stove

based on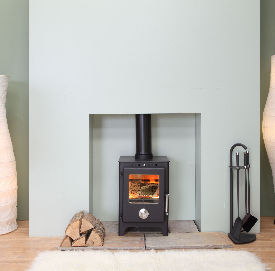 The Mendip stove is a contemporary multi fuel model designed in the UK.
It will fit into a smaller setting and you can take the flue out of the top or the back of this model.
Technical Data
Height:

540

mm
Width:

380

mm
Depth:

350

mm
Flue Diameter: 125mm
Fuel: Multifuel
Nominal Heat Output: 4.8kW
Efficiency: 78.9%
Most Recent Review
I bought an ivory Mendip stove a few years ago to find the brushed steel handle once heated by the stove was dropping due to grub screw not holding the handle in place. This caused the handle... [ read more ]

Stove expert replied: There are other spares suppliers who should be able to source the correct touch up paint for you if this has not been resolved with the supplier. Regarding the glass crackling effect, this is due to the stove being operated on a low setting for pro-longed periods. This causes a chemical reaction between the gases and the glass that is permanent but to prevent it increasing the stove should have short periods of fast burn at least twice daily. This effect does not alter the integrity of the glass and the stove is safe to continue to use.
Most Popular Review
This little stove has a contemporary look to it, is easily lit and gets to the temperature you want in a short space of time. It is built very well and was excellent value for money. We love... [ read more ]

Stove expert replied: Great comments for this small stove.
More reviews for Mendip stove
I have fitted this little stove in my shop, Works very well, Easy to light, Gets up to temp very quickly, shuts down instant and glass stays clean, all in all very good stove for money well... [ read more ]

Stove expert replied: Good feedback and happy customer. Value for money.

The airwash keeps the glass quite clean, and it's very easy to control the temperature. I can keep the fire at 240 degrees easily with just the air wash fully open, and the bottom vent closed... [ read more ]