Langdale Stove

based on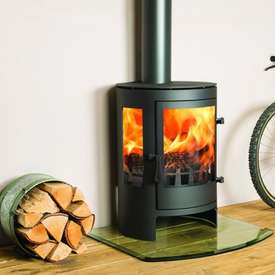 The Langdale is a new stove from Town and Country stoves and is available in two different heights.
Technical Data
Height:

755

mm
Width:

512

mm
Depth:

457

mm
Flue Diameter: 150mm
Fuel: Multifuel
Nominal Heat Output: 7.5kW
Efficiency: 79.6%
Most Recent Review
We bought a Langdale stove from a local supplier. The stove looks great but unfortunately, after only a few months of using it the front glass pane cracked! We contacted the supplier who explained... [ read more ]

Stove expert replied: Glass is not covered by any manufacturer, if it cracks it can be down to various factors, it could have been knocked when loading the stove, it could be a stress point from the securing parts. It can be compared to a windscreen going on a car, sometimes the cause is obvious, like a stone hitting it and at other times a crack can appear seemingly from nowhere, would you expect the manufacturer to pay for the replacement after a few months of use? Regarding the clean air technology, have you re-read the manual to check that the guidance given matches the manufacturers instructions? Are you using dry and seasoned wood with a moisture content of less than 20%? Is there enough air getting into the stove to ensure a good rate of burn - a stove should not slumber for prolonged periods. Perhaps the door needs adjustment to assist the closure of it, again there may be guidance in the manual that comes with the stove.
Most Popular Review
This fire gives out a lot of warmth and looks lovely but we cannot keep the glass clean it is always black, we only burn kiln dried logs but the clean burn does not work at all.

Stove expert replied: Please check that there is plenty of air in the room as this may be the cause, check the output of stove and amount of free air that is required for this. It sounds like the gases are not getting away from the firebox effectively hence the fuel is burning too slowly causing glass discoloration, a stove thermometer will also mean you can check how the stove is operating so this would also prove a beneficial purchase.
More reviews for Langdale Stove
Had the stove 2 years now and like the other reviews initially the stove needed cleaning after every burn. However, since getting a flue thermostat and keeping all vents open until 300F, just... [ read more ]

Stove expert replied: A stove flue thermostat is an excellent way to maintain the most efficient and effective rate of burn, a must to any stove user.

Have had this stove a year now. On the plus side it looks great BUT it is SO difficult to clean and it NEEDS to be cleaned after each and every burn. The airflow is fine as we paid extra... [ read more ]