Thornton Dale stove

based on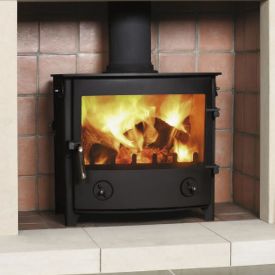 The Thornton Dale stove has a plain curved glass window on the single door and is a multi fuel stove with quite a high output.
The Thornton Dale is cleanburning (Town and Country's turbo burner) and has a contemporary plain look.
Most Recent Review
Great stove - very happy with it. Very easy to light. Great appearance. Huge viewing glass. Chucks out a lot of heat with seasoned logs. Glass remains clean. easy to control. Accepts big logs... [ read more ]
Most Popular Review
One of the best things I've every bought.Had it in over a year now. Situated in dining room on internal wall in four bedroom house, with large lounge and kitchen. Having been down to -12 outside... [ read more ]

Stove expert replied: Wood stores are a must if you are a committed stove user, worth getting next years wood in to ensure it is well seasoned.
More reviews for Thornton Dale stove