Jotul F 602 stove

based on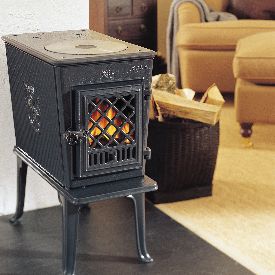 The Jotul F 602 stove is available in 3 versions - the original standard, the newer Cleanburn in matt black with a glass door &
the cleanburn wood burning model in a blue-black enamel.
The Standard model does not have glass in the door - the cleanburn stove does have a glass door with lattice work on the glass.
The Jotul F 602 has long legs &
is quite deep taking 400mm length logs. The F602 is a narrow stove and will fit into smaller fire place openings.
Most Recent Review
I've had this stove 15 years, use it from October to March on average every year and its still as good as the day I brought it. I've found in the last few winters that if I stand an extractor... [ read more ]
Most Popular Review
This is the best stove I've seen, its been designed by a genuis. Simple, high quality cast iron, clean burning, economical, burns overnight, I can't understand how people will pay more for a... [ read more ]
More reviews for Jotul F 602 stove