Hunter Hawk stove

based on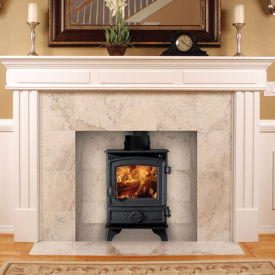 The Hunter Hawk 3 and 4 stove is available as a multi fuel or wood burning stove. The Hawk is available in 2 different types -
one has a contemporary plain door design and the other a door with a more traditional design.
It will fit into small fire place openings and is available as a double sided stove.
Technical Data
Height:

553

mm
Width:

390

mm
Depth:

342

mm
Flue Diameter: 125mm
Fuel: Multi fuel
Nominal Heat Output: 4kW
Efficiency: 72.8%
Most Recent Review
I have had several stoves in recent years, and this does not send out the heat even at full blast, if you open the door half the contents fall out, hot sinders, they say clean the ash pan out... [ read more ]

Stove expert replied: It would appear that you have a multifuel stove and not the designated wood version that is available. If you are only burning wood then the wood version is bette,r as it does not have a grate but a solid base on which the ash can build up readily, the downside is there is no ashpan so you need to remove the ash when it gets too much using a fireside tool. Have you got full control over the stove, if it is working hard and not producing heat then check the moisture content of the wood (should be below 20%). Have the flue draw tested. Make sure that this stove is the correct output for the space that you are trying to heat.
Most Popular Review
If likened to a car the Hunter Hawk would be a Lada. It does the job (just) and is nothing special but will get you there. After 5 years it looks tired and even after new firebricks and an overhaul... [ read more ]
More reviews for Hunter Hawk stove (page 1 of 2)
1