Hunter Hawk stove

based on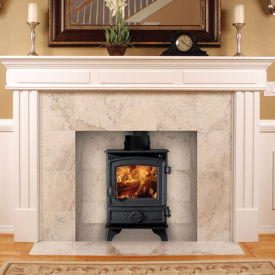 The Hunter Hawk 3 and 4 stove is available as a multi fuel or wood burning stove. The Hawk is available in 2 different types -
one has a contemporary plain door design and the other a door with a more traditional design.
It will fit into small fire place openings and is available as a double sided stove.
Technical Data
Height:

553

mm
Width:

390

mm
Depth:

342

mm
Flue Diameter: 125mm
Fuel: Multi fuel
Efficiency: 72.8%
Most Recent Review
I have used this for nearly a year now and cant wait to get rid of it. The main problem is that there is no gap between the ash shelf and the door. Every time you open the door, solid fuel and... [ read more ]

Stove expert replied: Have you tried to push the fuel to the back of the firebox and not putting so much on at any one time. Smaller logs are also important in situations where ash falling when opening the door is reported.
Most Popular Review
If likened to a car the Hunter Hawk would be a Lada. It does the job (just) and is nothing special but will get you there. After 5 years it looks tired and even after new firebricks and an overhaul... [ read more ]
More reviews for Hunter Hawk stove (page 1 of 2)
1