Heta Inspire 40 stove

based on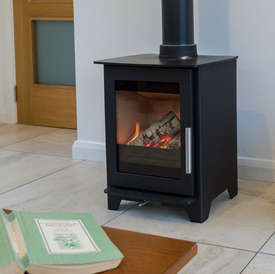 The Inspire 40 stove is a multi fuel stove with an nominal heat output of 4.5 kW. The stove is highly efficient at 81% and is also approved for smoke control areas.

Technical Data
Height:

585

mm
Width:

460

mm
Depth:

367

mm
Flue Diameter: 125mm
Fuel: Multi fuel
Nominal Heat Output: 4.5kW
Efficiency: 81%
Most Recent Review
Have started to use it again in October and noticed lots of tiny marks on the glass we burn mostly logs but do use coal as well. Got in touch with our installer who then spoke to his supplier... [ read more ]

Stove expert replied: Household coal is not recommended on a closed appliance. Most smokeless fuels that end in ite are suitable eg: phurnacite, anthracite, maxibrite, taybrite. If the marks are like a spiders webb, that creep across the glass then this is due to the stove not be used correctly.Iit is being left to slumber for pro-longed periods and the flue gases are staying in the firebox for longer than normal, setting up a chemical reaction with the glass surface. It will not clean off, and has not affected to integrity of the glass. Short periods of fast burn are recommended, at least twice a day if continuous burning is taking place, these should last between 15-20 mins max.
Most Popular Review
I've had a few stoves in the past in previous properties and installed this one just over a week ago in my home. The stove looks great on the green tiled hearth I made for it . We were worried... [ read more ]
More reviews for Heta Inspire 40 stove