Franco Belge Belfort stove

based on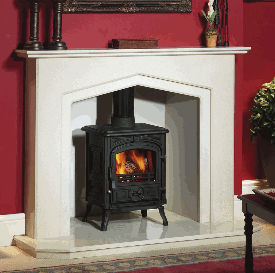 The Franco Belge Belfort stove is a compact model and will therefore be able to fit into smaller fire place settings.
It has a 5kw output & you do not need to put an air vent into the room as less than 5kw output.
You can get the Belfort stove in enamel finish as well.
There is 1 plain door with a glass panel on the stove and the flue pipe can come out of the top or back of the stove.
Technical Data
Height:

550

mm
Width:

420

mm
Depth:

340

mm
Flue Diameter: 125mm
Fuel: Multi fuel
Nominal Heat Output: 4.5kW
Efficiency: 74.3%
Most Recent Review
If this stove is installed in a small fireplace, with the flue out the top, through a register plate, to the chimney, the performance is not very good, the heat is lost, up the chimney and... [ read more ]

Stove expert replied: The key to any installation is to make sure that you adhere to the manufacturers guidelines. There needs to be a good clearance around the stove to allow the heat produced to radiate freely. With a register plate the heat loss up the chimney should be minimal. Using a rear flue option does leave the top of the stove for warming things if required.
Most Popular Review
After a lot of consideration we decided on this stove. We removed a cast iron Victorian fireplace and installed this in the cavity. It's a nice fit and we did not have to alter the existing... [ read more ]
More reviews for Franco Belge Belfort stove (page 1 of 3)
1