Franco Belge Belfort stove

based on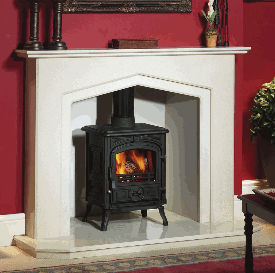 The Franco Belge Belfort stove is a compact model and will therefore be able to fit into smaller fire place settings.
It has a 5kw output & you do not need to put an air vent into the room as less than 5kw output.
You can get the Belfort stove in enamel finish as well.
There is 1 plain door with a glass panel on the stove and the flue pipe can come out of the top or back of the stove.
Technical Data
Height:

550

mm
Width:

420

mm
Depth:

340

mm
Flue Diameter: 125mm
Fuel: Multi fuel
Nominal Heat Output: 4.5kW
Efficiency: 74.3%
Most Recent Review
12 months & countless tests by hetas experts & it still fills the house with an acrid paint smell...I''ve tried all types of fuel I've tried to regulate the temperature...very little heat no... [ read more ]

Stove expert replied: The smell is likely to be something to do with the installation, more than likely flue originated. Has the flue been lined and backfilled with suitable insulation? Is any part of it close to any combustible materials? Does the smell happen just on lighting or only when the stove and flue are hot with an established fire? The stove is a metal box, where can a smell be generated from once the paint has cured? There have been known cases where the stove paint itself does not cure fully (not specifically with this brand though) and an acrid smell can result. You could rub the stove down and respray with suitable paint or go back to the supplier who in turn should contact the Franco Belge importer.
Most Popular Review
After a lot of consideration we decided on this stove. We removed a cast iron Victorian fireplace and installed this in the cavity. It's a nice fit and we did not have to alter the existing... [ read more ]
More reviews for Franco Belge Belfort stove (page 1 of 3)
1