Franco Belge Limousin stove

based on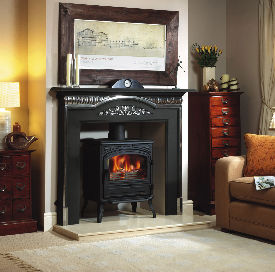 The Franco Belge Limousin stove is a traditional cast iron stove with 1 big plain glass door.
This stove has some simple relief work on the cast around the door.
It has a flue pipe which can either come out of the top or the back of the stove
and a 10kw output.
The Limousin stove is also available in enamel finishes.
Technical Data
Height:

741

mm
Width:

638

mm
Depth:

433

mm
Flue Diameter: 150mm
Fuel: Multi fuel
Nominal Heat Output: 10kW
Efficiency: 71.9%
Most Recent Review
We have had our Limousin from new and is now 9 years old, we use it every day in the winter when heat is required.We have only had to fit new rope seals as service items, apart from the glass... [ read more ]

Stove expert replied: Handy tips for keeping in over-night. Work with your stove to get what you want to out of it!
Most Popular Review
Good fire but have had problems with the baffle and the back wall' going through one of each every two years (not good). The importer didn't want to know as soon as it was out of warranty, and... [ read more ]

Stove expert replied: Franco belge stoves are a fairly good mid range stove, but sometimes it can make sense to pay a little extra to get something that bit better. It is not surprising that the importer and manufacturer did not want to know as it is the retailer who should be the first port of call for a customer. One should expect a decent retailer to help their customer get the spares needed for their stove. Baffle plates are generally not covered by any warranty - if they keep burning out then it sound a little like this stove might be being run a bit too hot on coal, and/or the chimney draft might at times be very strong. Fitting a draught stabiliser might help. I am not saying that this is the case here but it seems unlikely that this Franco Belge owner consistently got 'dudd' baffle plates and parts, and therefore much more likely that it was to do with how the stove was being used.