Firefox 8 Classic stove

based on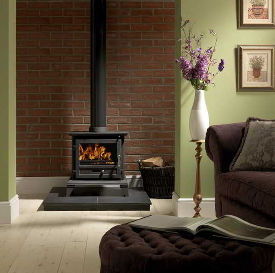 The Firefox Classic models are a little bit different to the normal Firefox models.
The dimensions vary a little -
they have a single glass on the door with view of the fire.
Technical Data
Height:

570

mm
Width:

583

mm
Depth:

375

mm
Flue Diameter: 150mm
Fuel: Multifuel
Nominal Heat Output: 8.4kW
Efficiency: 77%
Most Recent Review
We have had our Classic 8 burner in use daily for the past two months, it''s very easy to light and give out a decent amount of heat in our family room.We have recently had a problem with our... [ read more ]

Stove expert replied: Keeping the air controls closed for overnight burning can mean that the gases stay in the firebox longer than is recommended and they can build up, (as the temperature drops outside), causing the gases to leak into the room setting off the carbon monoxide alarm. Have you an airbrick in the room? If there is limited free air this can affect the way the stove is performing and as properties are becoming more insulated is a very important thing to get right. If the stove works well other than at night this is something that can be added easily to solve this problem.
Most Popular Review
Well built cast-iron stove. Easily assembled from enclosed instructions. With the addition of the fire bricks, the firebox becomes very small and will only suit logs laid across the stove... [ read more ]
More reviews for Firefox 8 Classic stove
Fitted the Firefox 8 TD with wood burning kit in August 2012 into an 1850's stone cottage in Central Scotland. It as been used daily since installation and we have not been disappointed. With... [ read more ]

Got a Firefox 8 Classic stove fitted in early December 2012. I use smokeless coal and the heat does not circulate the room at all. You would have to sit very close to the stove to get any heat... [ read more ]

Stove expert replied: Get the installation checked as this has a good heat output so your comments are surprising.