Firebelly FB2 double sided stove

based on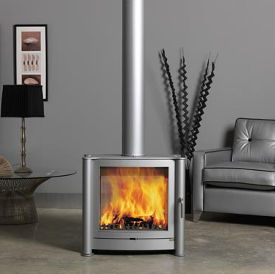 Big output contemporary stove with a big glass on both sides.
Possible to change to multi fuel option and is available in a lot of different colours.
Technical Data
Height:

601

mm
Width:

639

mm
Depth:

423

mm
Flue Diameter: 150mm
Nominal Heat Output: 8kW
Most Recent Review
The stove looks great I have the black with stainless legs but can't slow the burn down and can't get it to burn with in recommended temperature the highest temperature it will reach is 180... [ read more ]

Stove expert replied: Different flue system behave in different ways even within the same house. It may be advisable to get professional assistance before spending out more money.
Most Popular Review
Lights easy as long as you open 1 of the top vents gives plenty draw to burn keep bottom ones closed. Took us a few weeks to work out how best to use vents top and bottom. Hardly ever use... [ read more ]

Stove expert replied: High priase for this stove, great feedback.
More reviews for Firebelly FB2 double sided stove
I bought this stove to heat two large rooms - living and kitchen/diner. We live in rural Scotland so it get's pretty cold in the winter months. We had a fair amount of building work done to... [ read more ]

Stove expert replied: On the windy days take more care with the air controls as they may need to be adjusted to allow less than normal amounts of air into the stove so that it does not overdraw. A flue damper may be a good option to prevent over-drawing long term. Otherwise a great review.

Just to say I have read all other reviews AFTER I bought it. ( I would not have bought it had I read them) I have owned a very good Morso stove but wanted a double sided. It's not easy to use... [ read more ]

Stove expert replied: Good informative comments for other users to follow.