Firebelly FB1 stove

based on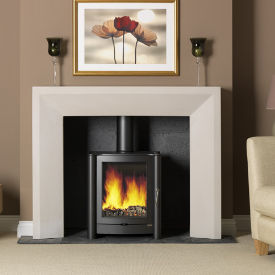 The contemporary Firebely FB1 stove has one plain door with a big glass panels in it.
You can place the stove on a 12m thick hearth you only need a 80m air gap either side and above the stove
The Firebely FB1 stove is a 6kw model and you can get a multi fuel kit & a log box for this model.
It is also available as a double sided stove.
Technical Data
Height:

605

mm
Width:

522

mm
Depth:

422

mm
Flue Diameter: 125mm
Nominal Heat Output: 6kW
Efficiency: 78%
Most Recent Review
I purchased a Fire Belly FB1 Double Sided Single Door stove on a bit of a wim. It was being sold as new by a reputable dealer but had a tiny bit of cosmetic damage so I got it for a good price... [ read more ]

Stove expert replied: It is not good practice to shut the air off to any stove completely and there should be air passing through it to enable combustion to occur. I am sure with practice you will fine tune the air control to get a good rate of burn, good heat output and efficiency of fuel.
Most Popular Review
No review can be much use unless it objectively refers to other items in the market. I have a Morso 04, a Firebelly FB1, and a Jetmaster 700. This review is about both the Morso and the Firebelly... [ read more ]
More reviews for Firebelly FB1 stove (page 1 of 3)
1