Esse Ironheart cooking range

based on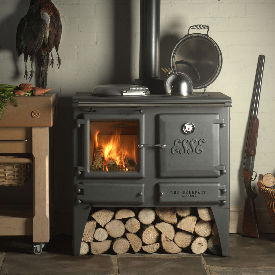 The Esse Ironheart cooking range is a cast iron and steel 8kw stove with oven, hot plate and possible back boiler for heating radiators and water. The Ironheart has a fire box with a glass door through which you can view the dance of the flames.
The tall legs have got a curve in them. The Ironheart is a multi fuel range capable of burning wood & coal.
Technical Data
Height:

900

mm
Width:

900

mm
Depth:

600

mm
Flue Diameter: 150mm
Fuel: Multi fuel
Most Recent Review
I've had it for 2 years now, and the Top Baffle needs replacing, its split in half. All the side bricks are broken to and need to be replaced. By the time these parts reach my house it'll probably... [ read more ]

Stove expert replied: What a shame. The first thing to try to resolve is the smoke coming back into the room when refueling, I appreciate this did not happen with the previous stove but stoves do vary and this has a large output so: Have you an airbrick in the room? Is there an extractor also in the room? What height is the flue system this has been installed on? What fuel are you using? If wood is it dry and well seasoned with a moisture content of less than 20%? Have you any other flues in the property? Have you an anti down-draught cowl on the flue system? Is the flue into a chimney or a twin wall system? If a chimney is it lined and insulated? There is likely to be a reason that this is happening and there is normally a way to overcome this, worst case being a flue fan to aid the draw. With regard to the liners they are classed as consumable and are not covered by warranty.
Most Popular Review
This is actually a sheet steel stove with a cast iron top surface, doors and hotplate.
More reviews for Esse Ironheart cooking range (page 1 of 4)
1