Esse 500 stove

based on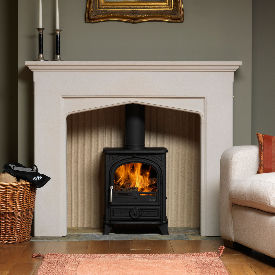 The Esse 500 is a multi fuel stove.
This model has a 5kw output & has 1 plain door with glass in it -
the glass has a curve on the top edge & secondary air wash system to keep it clean.
Some Esse stoves are cast iron while others are a mixture of steel & cast iron.
Technical Data
Height:

545

mm
Width:

428

mm
Depth:

348

mm
Flue Diameter: 125mm
Fuel: Multifuel
Efficiency: 80%
Most Recent Review
I have had experience of a lot of stoves, the Esse 500 gives off plenty of heat but I find the riddle grate system with handle a very poor design. The riddle gets constantly blocked and would... [ read more ]

Stove expert replied: Did you try alternatives fuels to see if they still blocked the grate system. Different fuels may burn to a finer ash and therefore would not get caught in the grate, they do vary greatly so trying more than one fuel is a good policy to adopt until you find the one that suits your stove best.
Most Popular Review
Bought the stove from a well known on line retailer. Took 2 months for Esse to get the door/grate tool & glove to us. After purchase realised that multifuel means coal + the occasional log.... [ read more ]
More reviews for Esse 500 stove (page 1 of 2)
1