Esse 350 stove

based on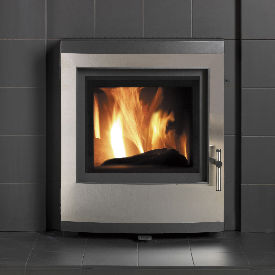 The Esse 350 stove will fit into a standard fire place opening as long as the fire back has been removed.
It has a bigger fire box than the 300 model , so can take longer logs.
The Esse 350 stove needs an airvent into the room.
This stove is a convector model.
Technical Data
Height:

620

mm
Width:

485

mm
Depth:

492

mm
Flue Diameter: 150mm
Fuel: Wood
Efficiency: 78.5%
Most Recent Review
I have made a mistake going for the Esse SE350 I was told this model was a 7kw convection stove. Only if you burn solid fuel, 5kw if you burn logs. The complete firebox is not guaranteed, only... [ read more ]

Stove expert replied: Glass and consumable items are not covered my manufacturers, the glass bloom (if a milky appearance) is likely to be caused by overdrawing of the stove and is not a manufacturing defect (it may be an installation problem or operator error). It would not happen on one firing but over a period of time and means that usage is exposing the stove to higher than normal working temperatures. This should be investigated fully as further damage may occur. You should be able to have the stove slumbering with a gentle flame, with short periods of fast burn and not a raging fire all the time.
Most Popular Review
Comments for the ESSE 301 which is similar to the 305. Easy to fit into a small traditional fire-place without really needing to add a chimney liner. Just make sure that the hearth gives the... [ read more ]
More reviews for Esse 350 stove (page 1 of 2)
1