Esse 350 stove

based on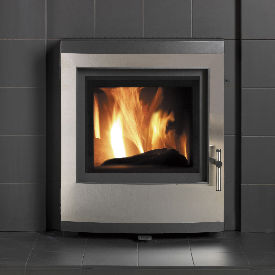 The Esse 350 stove will fit into a standard fire place opening as long as the fire back has been removed.
It has a bigger fire box than the 300 model , so can take longer logs.
The Esse 350 stove needs an airvent into the room.
This stove is a convector model.
Technical Data
Height:

620

mm
Width:

485

mm
Depth:

492

mm
Flue Diameter: 150mm
Fuel: Wood
Efficiency: 78.5%
Most Recent Review
Chimney cleaned regularly, burn best quality smokeless coal and yet everyday we can get a layer of a very fine film of soot. I have replaced the rope on the door but still think it''s coming... [ read more ]

Stove expert replied: Smokeless fuel can and often will leave particulates on surfaces due to its makeup, it mainly occurs when loading and re-loading and when riddling to de-ash the stove. Different fuels will have more or less ash so it is worth trialling a few brands to see which you find is best in your situation. It is also best to de-ash with the door closed and then leave for say 5 mins for the ash to settle before removing the ashpan. Do you use an ash caddy or remove by taking the ashpan through the house to dispose of the ash as this can lead to fine particles becoming airborne? This is not caused by the stove but by the fuel type being used.
Most Popular Review
Comments for the ESSE 301 which is similar to the 305. Easy to fit into a small traditional fire-place without really needing to add a chimney liner. Just make sure that the hearth gives the... [ read more ]
More reviews for Esse 350 stove (page 1 of 2)
1