Esse 700 stove

based on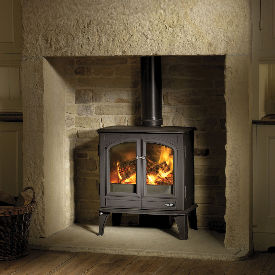 The Esse 700 is a big output stove available as a wood- or multi fuel stove.
This Esse model has 2 doors & the glass curves on the outer top edge.
The stove is made of steel & cast iron
&
a boiler of 27300 is available still leaving an output of 9kw to the room.
Technical Data
Height:

725

mm
Width:

610

mm
Depth:

390

mm
Flue Diameter: 150mm
Fuel: Multifuel
Efficiency: 80.2%
Most Recent Review
Poor design. When opening the door to add logs, the stove smokes. No matter how the door (s) are opened it smokes. A lot. The front of the firetube boiler extends almost right to the front of... [ read more ]

Stove expert replied: Esse have contacted the customer and noted the complaints which has been passed back to the management. Esse branding has a good standing in the stove industry and normally these stoves are thought highly of, so this review is disappointing. Requests for photos from the customer have not been forthcoming.
Most Popular Review
Cracking stove, can't recommend highly enough, big stove , big output, overnight burning depends on the fuel being burnt. would definetly have another if the need ever arose maybe with a boiler... [ read more ]
More reviews for Esse 700 stove
Latest 700 is the Vista with a single door giving an unrivalled view of the fire. Air wash is superb and the heat output excellent. Just had one fitted and it exceeds expectations. One tip is... [ read more ]

The Esse 700 is a cracking stove. The heat is amazing and left me stunned. Got it 3 years ago and it's my second Esse.. Throw some dry wood and a couple of logs any you are set for a couple... [ read more ]

Stove expert replied: Condensation in the firebox may be down to damp wood, a moisture meter is recommended so that customers can check that the moisture content is less than 20%.

Had the 700B boiler stove & connected to central heating & hot water system since Nov 2011. Phurnacite bricks are the best fuel to use, they allow the fire to remain in from 06.30 until 16.30... [ read more ]

Stove expert replied: Combining heat sources gives the best of both worlds and a good saving which can't be bad!