Dunsley Highlander 8 stove

based on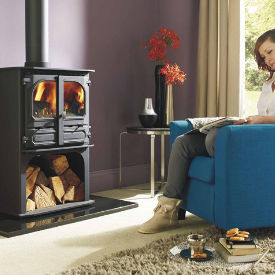 The Dunsley Highlander 8 has 2 cast iron doors with viewing panels made of glass.
The log length is up to 460mm.
The Highlander stove has got air wash system.
Knobbs on doors are available in black, brass or polished steel.
As it is a multi fuel stove it has a grate & ash pan
&
can burn wood or fossil fuel.
Technical Data
Height:

630

mm
Width:

605

mm
Depth:

385

mm
Flue Diameter: 150mm
Fuel: Multifuel
Efficiency: 77.8%
Most Recent Review
Recently had this stove fitted by local company. The stove is fantastic - burns extremely well overnight, fuel efficient - Best thing I have ever had installed!
Most Popular Review
It is solid and robust in construction and easy to light and use. Its slightly older design makes it less controllable than some more modern stoves. This is a benefit when it comes to servicing... [ read more ]

Stove expert replied: Routine maintenance is important and should not be missed to insure the stove works as efficiently and effectively as possible..
More reviews for Dunsley Highlander 8 stove
We have had our highlander 8 with a back boiler for 2 years now and if I had my chance again I would never have bought it!!!! Within the first month of purchase we had the technical engineer... [ read more ]

Stove expert replied: I would try smokeless fuel in the stove as you may find this will give a better heat output to room and water being a concentrated pro-longed heat source. If you decide to remove this stove YOU MUST NOT FILL THE BOILER WITH SAND AND USE AS A DRY STOVE, this was advice given by the health an safety department several years ago. I would suggest selling it to someone wanting a boiler model. The Dove will give you 10kW's to water and 2kW's to room should you opt for this model in the future. I would suggest getting your requirements calculated by a heating engineer to insure that the stove is able to provide your requirements.

Came from a rented house with an Island II stove. It's a better stove but twice the price. Bought a doublesided (single glass) Highlander 8 for our new house & very happy with it. Both doors... [ read more ]

half years (and doubled in price!) Clay firebricks supplied with stove crumbling after 7 years and replaced by Vermiculite (supplied without saying they were not clay, by Dunsley) They have... [ read more ]