Coalbrookdale Darby stove

based on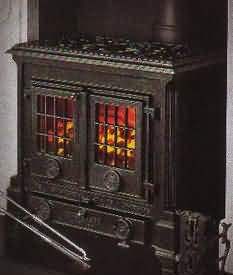 The Coalbrookdale Darby stove is a traditional fire with 2 doors -
the doors have a tracery pattern and the top of the stove has an ornate decoration.
Underneath their is a hotpplate so that you can heat drinks and food on the flat top of the stove -
the stove has a large back boiler.
Most Recent Review
We've had one of these for 22 years. It heats the whole cottage and is just fabulous!

Stove expert replied: A long standing appliance that is still working!
Most Popular Review
Our Darby came with the house and it was the previous owners main source of heat, it throws out such a phenomenal amount of heat. I grew up with solid fuel Agas & coal stoves and this is so... [ read more ]
More reviews for Coalbrookdale Darby stove (page 1 of 2)
1