Coalbrookdale Darby stove

based on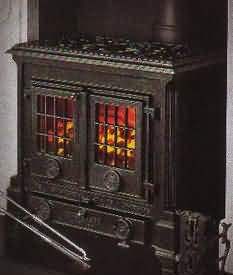 The Coalbrookdale Darby stove is a traditional fire with 2 doors -
the doors have a tracery pattern and the top of the stove has an ornate decoration.
Underneath their is a hotpplate so that you can heat drinks and food on the flat top of the stove -
the stove has a large back boiler.
Most Recent Review
My wife an I bought an old house in 1992 from an old widow who died. The house is like an open space of about 100m2. The main heating system was the Coalbrookdale Darby that was there since... [ read more ]

Stove expert replied: Great comments for this product.
Most Popular Review
Our Darby came with the house and it was the previous owners main source of heat, it throws out such a phenomenal amount of heat. I grew up with solid fuel Agas & coal stoves and this is so... [ read more ]
More reviews for Coalbrookdale Darby stove (page 1 of 2)
1