Coalbrookdale Much Wenlock stove

based on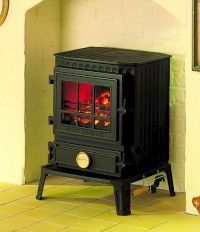 Coalbrookdale Much Wenlock stoves have been around for many years. There is a boiler model as well as a non boiler model. The current Much Wenlock stove is now manufactured by Aga.
Most Recent Review
I have had mine for 30+ years and it's been, and continues to be superb and brilliant. I have replaced the odd bar due to the heat of coal and logs making them bend and have had it so hot some of the pipe solder started to soften!!!! I think it is time to replace the brick liners in it now as the heat is starting to leak out. May it continue to be manufactured the way it always has done!!!! Top Marks 100%!!!!... [ read more ]

Stove expert replied: Great comments and a really long time of usage from this product has been achieved.
Most Popular Review
Best thing we ever bought - saves a lot on central heating as keeps whole house warm
More reviews for Coalbrookdale Much Wenlock stove
I am now on my third Much Wenlock (3 houses). I have also got one Swedish stove. This does not come close to being as good as the Coalbrookdale, although it probably cost as much. I am now building a house and the Coalbrookdale is my stove of choice.... [ read more ]

Stove expert replied: Great comments and repeated purchases speak for themselves.

Keeps our 3 bedroom cottage warm and toasty all winter. Runs 4 rads plus hot water. Use anthracite - costs about £100 per month to run. We keep it alight 24/7 for about 6 months a year.... [ read more ]