Broseley eVolution 26 boiler stove

based on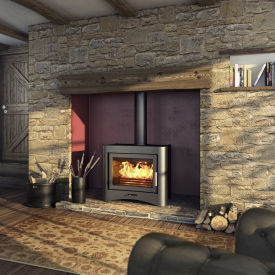 Technical Data
Height:

700

mm
Width:

800

mm
Depth:

692

mm
Flue Diameter: 150mm
Fuel: WOODBURNING ONLY
Nominal Heat Output: 26kW
Efficiency: 78%
Most Recent Review
We Purchased the Broseley stove approx 4 years ago, it smoked on the day of installation and has smoked ever since, when we re-fuel. We have contacted Broseley direct, for help and assistance... [ read more ]

Stove expert replied: The reviews of this stove do consistently mention that this stove smokes into the room and you have clearly had the same experience. It is clear that because it is heavily baffled it needs a tall chimney and a good draw and it would certainly appear that any bends in the system should be avoided. Why the stove should still smoke into the room even when you have a fan on the flue is nonetheless hard to understand. With high output boiler stoves it is always recommended to use a load unit to keep the firebox temperature up, burn very dry wood and only re-fuel once the existing load has burnt down to red embers. Nonetheless from the reviews it appears that everything has been tried but these stoves still have a tendency to smoke when the door is opened. I understand that this has now been removed and the replacement boiler is operating well. with no further adjustment to the flue or other elements of the installation.
Most Popular Review
Great stove, used to heat a 1000Ltr accumulator tank servicing a new 200m2 house. Note this stove requires alot of wood! Also currently only stove that gets the MCS grant.
More reviews for Broseley eVolution 26 boiler stove