Broseley eVolution 26 boiler stove

based on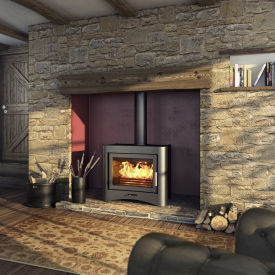 Technical Data
Height:

700

mm
Width:

800

mm
Depth:

692

mm
Flue Diameter: 150mm
Fuel: WOODBURNING ONLY
Nominal Heat Output: 26kW
Efficiency: 78%
Most Recent Review
We have had the stove for about 7 years now and it serves to heat our water and radiators once it''s up to temperature. It''s a great stove if you can put up with its drawbacks. 1) It''s a pain... [ read more ]

Stove expert replied: Some really useful comments here Anthony - thank you - especially opening the door slowly to allow the chimney to get used to the higher flow of air. Does it improve if you open a window? If so you might want extra room ventilation. I think that fitting a load unit might help you with your chimney. Like the thermostatic cartridge in a car heating system it loops the water within the stove until it comes up to temperature. That gets the stove up to operating tem faster and keeps it there. The added bonus is that when hot water does leave the stove to go out to your hot water cylinder and heating system is that it is always above a set temperature - which means you can have a shower much sooner. That also raises the flue temp faster, and results in a higher fire chamber temp = more efficient combustion = less deposits.
Most Popular Review
Great stove, used to heat a 1000Ltr accumulator tank servicing a new 200m2 house. Note this stove requires alot of wood! Also currently only stove that gets the MCS grant.
More reviews for Broseley eVolution 26 boiler stove