Yeoman Exmoor stove

based on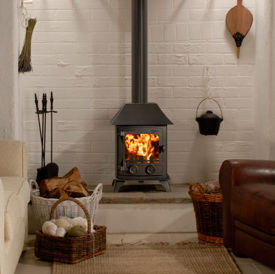 The Yeoman Exmoor stove is a narow depth 4.9kw stove available in wood or multi fuel version.
The Yeoman Exmoor stove is available with a flat top or a low canopy.
This is a traditional looking stove with 1 door & 1 plain glas panel in this door.
The glass is curved on the top edge.
Most Recent Review
Have had a a yeoman Devon for a couple of years now and i find it absolutely brilliant. So when we were in need of a stove for our dining kitchen I knew I was looking at a yeoman again. We decided... [ read more ]
Most Popular Review
Had this stove installed in September 2011, ( had originally been advised to choose a Franco Belge stove but upon installation the Franco Belge wouldn't fit despite been pre measured!). Was... [ read more ]

Stove expert replied: Stove working well and providing good heat.
More reviews for Yeoman Exmoor stove
As a first time owner of a log burner I didn't really know what to expect as regards output. All I was interested in was the aesthetic appearance in our newly built kitchen. 9 months later...... [ read more ]

Stove expert replied: Have you tried smokeless fuel for the over night burn period?