Yeoman Exe stove

based on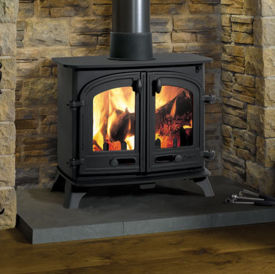 The Yoeman Exe stove is available with a small boiler suitable to heat domestic hot water -
the tapping points are on the back of the stove.
This Yeoman stove has 2 doors with glass panels in the doors -
You can get a mulkti fuel kit for this Yeoman model or have a wood burning model -
there is a choice of flat top or canopy
&
1 or 2 doors on the stove.
The decoration on the stove door might have optional Tudor Rose crosses.
Most Recent Review
Two months in and really scratching head about this one. Gut feeling is disappointment having grown up with a log burner and with many friends not having similar problems with their logburners... [ read more ]

Stove expert replied: It sounds as if there is not enough air to allow combustion, is there an air brick in the room? Was a flue draw taken on installation, if not I would suggest this is undertaken to check that it meets the stoves requirements. You say the stove dies away unless using small logs, if there is little air then it is struggling to burn a small log and it will fail when anything larger is used. It is not a problem with the stove but likely to be an installation / flue issue causing the lack of performance.
Most Popular Review
I spent months looking at stoves of 5kw output, and I am sure I have made a very good choice.Went for the Yeoman Exe for several reasons.It has a very large firebox (the stove is 600mm wide).... [ read more ]

Stove expert replied: Customer really happy and is looking forward to a warm winter ahead.
More reviews for Yeoman Exe stove (page 1 of 2)
1