Yeoman Devon stove

based on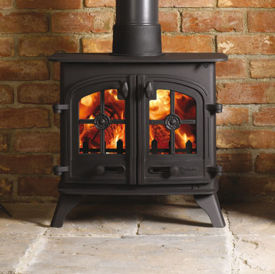 The Yeoman Devon stove is a traditional wood or multi fuel stove available with a flat top, low canopy or high canopy.
The Yeoman Devon stove has a 1 or 2 door option & you can have crosses on the glas of the 2 door model.
The Yeoman stoves have air wash & clean burn
&
you can get a flue damper for the Yeoman stoves.
Most Recent Review
I've tried changeling the rope twice around the door I've used the recommended 12mm rope but you can still see the fire through the front of the fire door from the side looking down. I'm now... [ read more ]

Stove expert replied: Check that the smoke alarm is working correctly. See if you can adjust the doors on the hinges so that a seal with the body can be achieved. Do not shut the stove down too much as this means the gases stay in the firebox for longer than suitable and they do not get lifted up the flue system adequately. Do also check that you have enough free air in the room to allow combustion to take place effectively. You should only use the manufacturers suggested rope size on the appliance.
Most Popular Review
I would recommend this with no hesitation whatsoever. Easy to light, emits a huge amount of heat and a bonus that it looks fabulous too. Will keep in overnight with coal and wood, although... [ read more ]
More reviews for Yeoman Devon stove (page 1 of 2)
1