Yeoman CL8 stove

based on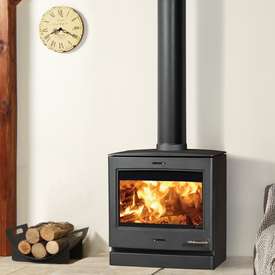 The Yeoman CL8 is the largest in the CL range with a nominal heat output of 8kW
Technical Data
Height:

572

mm
Width:

563

mm
Depth:

363

mm
Fuel: Multifuel
Nominal Heat Output: 8kW
Efficiency: 81%
Most Recent Review
Very disappointed with this stove. Had to replace log holder as it literally just burnt out. The top casting again just burnt out and fell off. The parts are not very sturdy and are expensive... [ read more ]

Stove expert replied: It is strange that you have had more than one part fail. It could be due to over firing of the stove so I would suggest a flue thermometer to insure that you are operating the stove withing the correct parameters.
Most Popular Review
We got one of these 3 years ago. First thing was the the door kept popping open - making it unsafe and usable. Turned out that Stovax (who own Yeoman) had recalled this stove and were fitting... [ read more ]

Stove expert replied: It is good that you had a replacement door sent to you by Stovax but this seems strange that it is not a good fit. There is normally some adjustment that can be made to make the seal that is required to enable an efficient burning process. Did your installer or a rep from Stovax fit the new door? Have you been back to them regarding the poor fit or requested advice on how to improve the fit? What fuel are you using? Providing the air controls are in a open position (once an established fire has been achieved closing the air vent will adjust the rate of burn normally but maintaining a clear glass), the flue draw is adequate and the fuel is of a good quality with a moisture content of less than 20% then the glass should remain clear - closing the vents, a poor flue draw or wet fuel can prevent this and lead to a blackening of the glass.